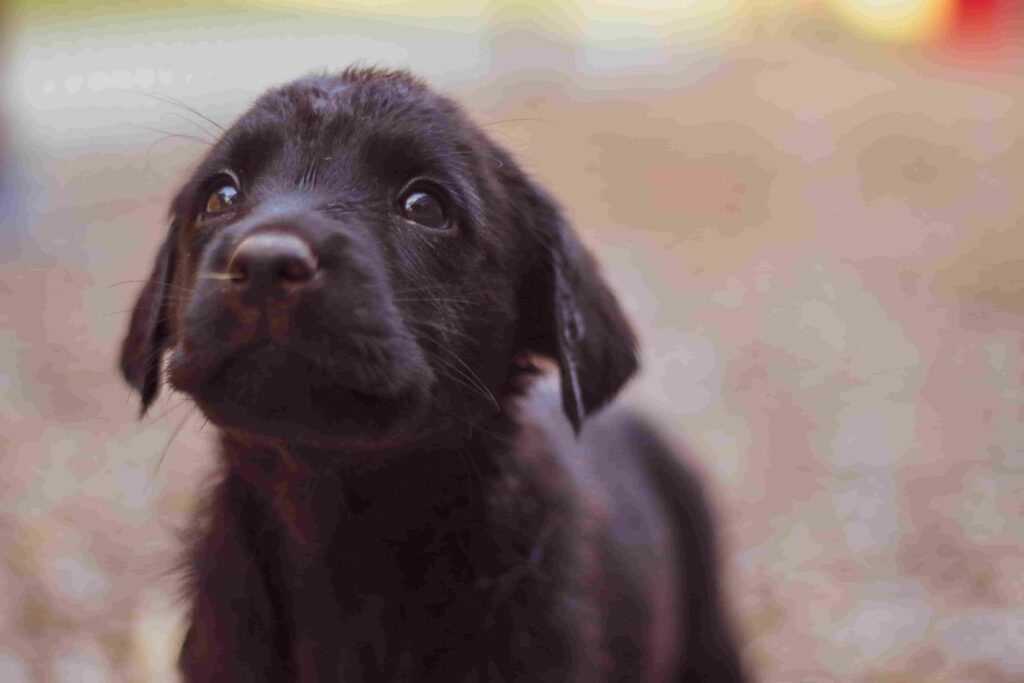 Hvilken type er det bedste hundefoder til hvalpe? Og hvad skal det indeholde?

Køb altid foder, der passer til hundens/hvalpens alder. Hvalpe skal gerne have hvalpefoder til de er 10-12 måneder gamle. Valget af fodermærke kan være svært, da der findes talrige produkter i dyrehandlen eller supermarkedet. Hvis ikke man i forvejen har erfaringer med et bestemt produkt.
Hvornår skal min hvalp have almindeligt voksenfoder?
Lille størrelse hund: Små hunde vil typisk have brug for hvalpefoder til de er ca. 8-10 måneder. Det er passede til mindre hunderacer, som typisk har en voksen hundevægt på 10 kg. eller mindre.
Mellemstørrelse hund: Din hund vil derefter høre i den mellem face, hvis den har en voksenvægt på omkring 10-30 kg. Her vil den have brug for hvalpefoder til den er ca. 12-14 måneder gammel.
Større hunderacer: De større hunde som har en voksenvægt på 30 kg. og derover, vil typisk være hvalp i længere tid. Her vil din hund have brug for hvalpefoder til den er fra 1,8 måneder og til 2 år gammel.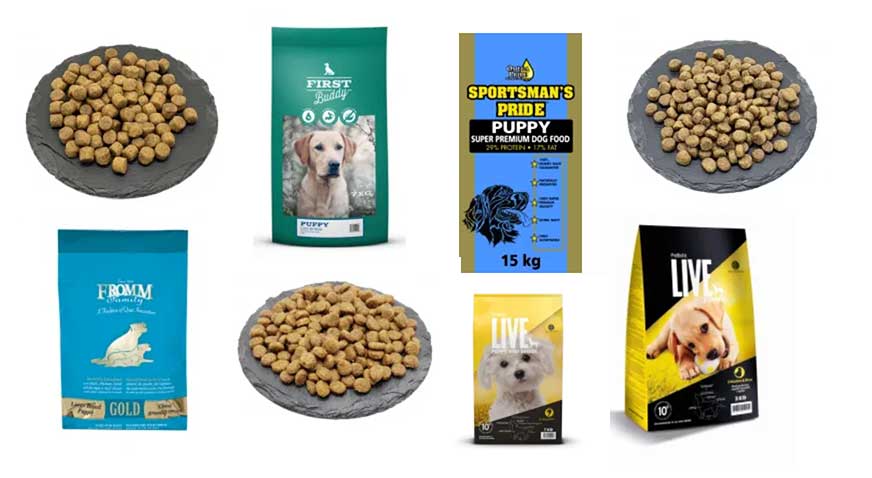 ---
Hvalpefoder til store hunderacer – 15 kg. Fromm Gold: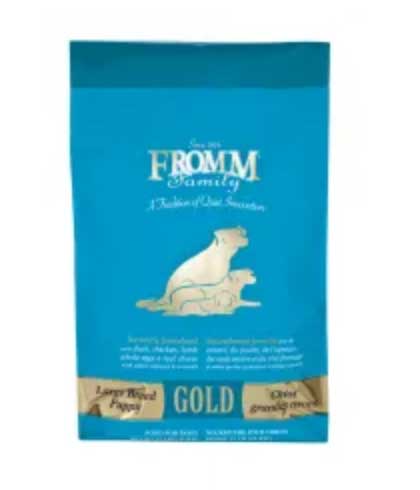 Fromm Large Breed Puppy Gold er hvalpefoder til store hunde racer. Et godt og naturligt valg til både hvalp og unghund til større hunderacer op til 1 år. Kylling som hovedingrediens.
★★★★★ 4,92 ud af 5 – baseret på 12 anmeldelser

Køb Fromm Large 15 kg.
---
Hvordan skifter jeg fra hvalpefoder til almindeligt hundefoder?
Når din hund går fra hvalp til voksen hund, så vil du få brug for at skifte foderet. Her er det en god idé at starte langsomt op, så du undgår dårlig mave hos hunden. Nyt foder kræver nemlig lidt tilvænning.
Sådan gør du: Start med at blande 30% af voksenfoder med hvalpefoder. Efter en lille uges tid kan du begynde at blande 50% – og den tredje uge 75-100%. På den måde får du langsomt justeret og skiftet foderet ud – og undgår tynd mave og andre udfordringer hos hunden.
---
1) Hvalpefoder First Buddy Puppy – bedst til prisen:
Her er noget af det bedste hundefoder til hvalpe – baseret på anbefalinger fra andre hvalpe ejere: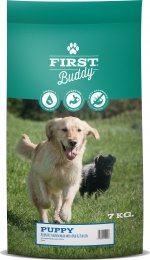 Mærket First Buddy Puppy er fuldkostfoder til hundehvalpe og alle hunderacer produceret i høj kvalitet. Foderet er lavet af danske Gilpa.dk og er velegnet til alle hvalpe helt op til 1 års alderen. First Buddy er uden korn og lavet med and og kanin, som også gør foderet allergivenligt – og et af de bedste mærker på markedet til prisen. Helt op til 82% af proteinerne er fra kød.
★★★★★ 5 ud af 5 – baseret på 25 anmeldelser

Køb First Buddy
Se videoen om Gilpa's eget dansk-produceret hvalpefoder First Buddy Puppy herunder:
---
Hvalpefoder – hvad skal du huske at kigge efter?
Hundefoder kan have ret stor betydning for hvordan din hvalp har det, og hvordan pelsen ser ud. Der er ikke så meget andet for, end at prøve sig frem i starten. Derefter, så hold øje med følgende dele fra hunden:
Pelsen – Ændrer pelsen sig negativt? Bliver kruset og ujævn?
Energiniveau – Er hvalpen mere træt end normalt? Uoplagt eller doven?
Afføring – Oplever du en anderledes afføring hos hvalpen?
I nogle tilfælde så vil et foderskift ændre sig til noget ala ovenstående. Men du kan også blive positivt overrasket at det ændrer sig til det bedre, og hvis hunden synes at kunne lide det nye foder – så er det bare at fortsætte med den type. Hvordan finder jeg det bedste hundefoder til hvalpe? Med hvalpefoder er det normalt at holde øje med: Energiindholdet, kalciumindhold, indholdet af fedt, vitaminer og mineraler. For det meste er der allerede tænkt over dette ved de fleste mærker.
---
2) Sportsman's pride – Puppy (blå)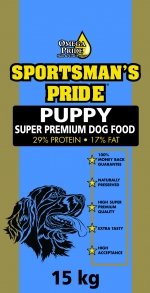 Den blå pakke fra Sportsman's Pride Puppy er god fuldkost hvalpefoder til hvalpe og unghunde til de er 12 måneder. Sportsman's Pride er høj amerikansk kvalitet, med kylling som hovedingrediens og helt uden kunstige tilsætningsstoffer og er naturligt konserveret. Foderet er meget kendt over hele verden – og har en meget høj smagsaccept hos alle hundehvalpe. Køb adult-pakkerne (rød og gul), når hvalpen er fyldt 1 år.
★★★★ 4,3 ud af 5

Køb Sportsman's Pride
Se videoen om Sportsman's Pride hvalpefoder her:
---
3) ProBiotic LIVE Puppy med kylling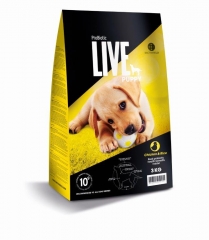 Mærket ProBiotic LIVE er et patenteret Super Premium hunde foder. Det indeholder levende og højt-koncentrerede bakterier til genopbygning og opretholdelse af hvalpens tarmfunktion. Det hjælper med at optimere fordøjelsen og styrkelse af immunforsvaret. Kan købes i poser både i 3 kg. 7 kg. og 12 kg.

Køb LIVE puppy
---
Skal du købe ekstra vitaminer og kalk?
Ovenstående bud på hundefoder til hvalpe indeholder som regel alt det, som hvalpen har brug for. Du skal hverken tilsætte ekstra kalk, vitaminer eller andet godt. Hvis du oplever at hvalpens hud, pels m.m begynder at blive tør eller ændrer sig i en negativ retning, så kan man evt. Tilsætte en skefuld majsolie eller vindruekerneolie.
De fleste fodrer hunde i dag med færdigt fremstillet foder. Det er det nemmeste og er ikke væsentligt dyrere, end hvis du skulle lave det selv. Måske ville det også være en anelse naivt at tro, at man selv kunne fremstille næringsrigt foder i samme kvalitet til billigere penge. Men det er der altså nogle, der gør.
At foderet har præcist det korrekte indhold af næringsstoffer er især vigtigt for store hunde. Da de har en voldsom væksthastighed, er de derfor lidt følsomme over for foder med mindre og ringere variationer i sammensætningen. Små hunde er som regel mere tolerante med hensyn til fodring.
Læs også: Her er de bedste tyggeben til hvalpe, unghunde og voksne hunde
Læs mere nedenfor om hvordan du fodrer din hvalp på den bedste måde.
---